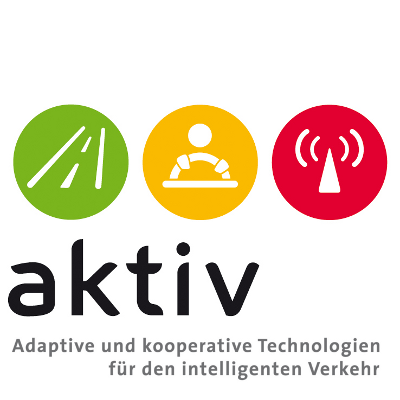 Aktiv CoCar
Cooperative Cars
Timeframe
1 November 2006 - 30 April 2009
Project Management:
Project Participants:
Sponsored by:
Participating Institutions:
Keywords:
C2C (Car to Car); C2I (Car to Infrastructure); 3G+; UMTS; IP-based communication protocols for telematic applications; simulation; cross-layer design and optimization
Project Description:
Cooperatively acting vehicles represent a substantial innovation for future traffic management solutions and for the next generation of driver assistance systems. Including efficient communication mechanisms into future cars can be seen as a central task. This comprises both the direct (or indirect) vehicle to vehicle communication (C2C) as well as the vehicle to infrastructure communication (C2I) for sending and analyzing real-time traffic conditions in order to generate and broadcast important traffic information.
Main questions that CoCar will tackle by means of simulation studies and cross-layer optimization techniques are (among others):\
Which effects are to be expected for the network signalling and which protocols have to be provided to support future telematic applications?
Which latency and load behaviour patterns are induced by CoCar application scenarios?
Which additions/changes at existing system concepts are to be accomplished and which requirements arise for future, network-supported communication services?
How can traffic status information be acquired automatically in real-time and provided for CoCar users inside the cars by using UMTS services?
The research work in CoCar is driven by an interdisciplinary, internationally acting consortium, consisting of prominent telecommunication network operators, network equipment suppliers as well as car and truck manufacturers. Industrial research is thereby supplemented by university research partners that preparatory work in the form of distinctive subcontracts.
The objectives and ambitions of CoCar are put high and aim on making Germany the technology leader within the range of C2C and C2I applications based on cellular mobile UMTS communications. The final goal is to develop an open European standard to export vehicle communication solutions into future European cars.
Links:
Contact:
German, Reinhard
Phone +49 9131 85 27916
Fax +49 9131 85 27409
E-Mail: reinhard.german@informatik.uni-erlangen.de\